MOHOC® & MOHOC IR® CAMERAS
VISIBLE LIGHT & INFRARED MODELS
"The MOHOC camera is revolutionary and completely tailored to the field of the tactical operator. It has been built from the ground up to fit our needs. We attest to its durability, reliability, and functionality."
US TACTICAL OPERATIONS GROUP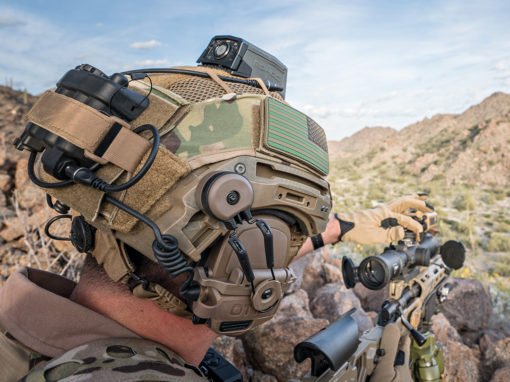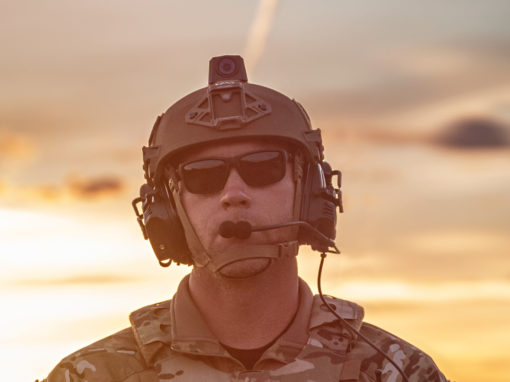 MOHOC believes the world's toughest war fighters deserve equipment worthy of their mission.  MOHOC® Cameras are the world's first military-optimized helmet cameras and revolutionize form-factor, ruggedization, and user interface.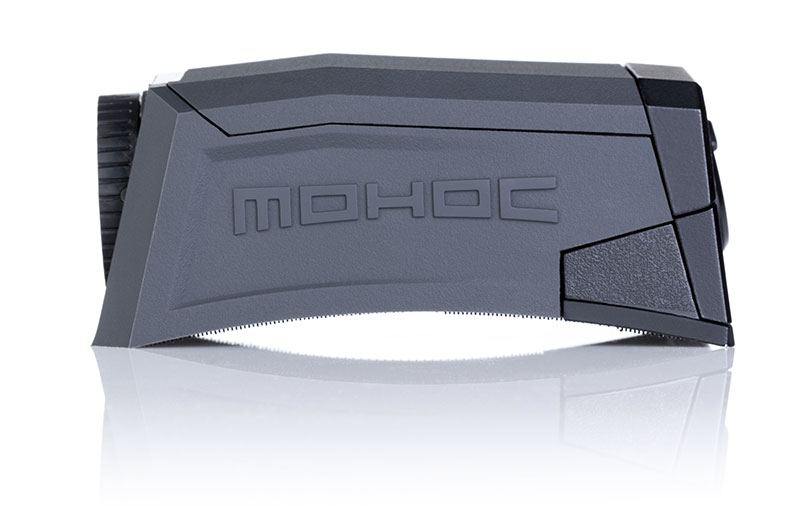 Tactically designed MOHOC® Cameras have a patented helmet-contoured base and low-profile housing to eliminate snag hazards.
Waterproof to 10m/33ft and drop-proof to 2m/6.5ft, MOHOC® is military-grade tough and IP68 rated. Its single button tactile control with vibration feedback enables intuitive operation even in the harshest conditions.
Both MOHOC® Cameras capture razor-sharp 1080p HD video and 12MP photos in visible light, low light, and white light.
As an integral part of the C5ISR tactical operating network, MOHOC® Cameras are essential for obtaining, gathering and processing real-time data to maintain operational superiority.
(1) MOHOC® Camera
(1) Li-ion Rechargeable Battery, 1100 mAh
(2) Industrial Strength Black Velcro® Strips (Loop)
(1) micro USB cable to charge battery and download content to computer
(1) Lanyard
(1) Camera bag
Sold Separately: microSD card Class 10 or UHS-1 required. Compatible up to 64GB.
Weight: 7.2oz (202 grams) with Li-Ion rechargeable battery
Dimensions: 52mm x 42mm x 88mm (WxHxD)
Video Settings: 1080p/60FPS, 1080p/30FPS, 720p/120FPS, 720p/60FPS, 720p/30FPS, and time lapse (60 sec, 30 sec, 5 sec, or 3 sec)
Photos: 12MP
Field of View: 140 degrees
Lens Aperture: F/2.8
Battery Life: Continuous record time of 2 hours 45 minutes for 1100 mAh rechargeable and 5+ for CR123A
US Pat no. 10,802,379
MOHOC® INFRARED MODEL
---
In addition to recording in daylight, the MOHOC® IR model also captures images in total darkness when used with infrared illumination (records in black & white).
---
Learn More • MSRP $799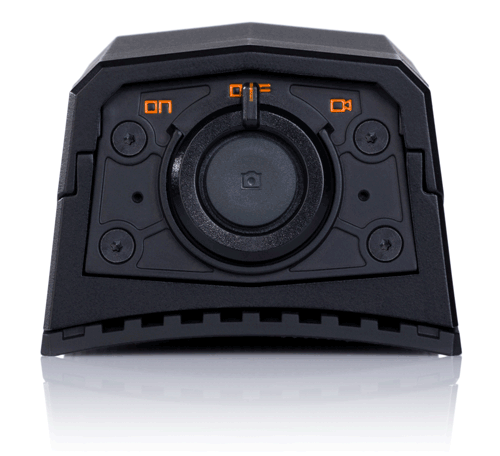 ONE-TOUCH OPERATION
Easy to operate even with gloves.  Single finger operation of rotating toggle or photo shutter button. Toggle to record and camera immediately powers ON and starts recording.
Built-in vibration feedback for stealth operation communicates the camera activity without any lights which maintains light discipline. Single button, simple settings, auto-record providing stunning 1080p HD video and 12 MP photos.
.
LENS ROTATION
Easily rotate the MOHOC® lens to match the position of the camera body to maintain a level perspective. Regardless of helmet mounting position – on top or side, or attached directly to a wall, always get the frame positioned horizontally with the 190 degree rotating MOHOC® lens. Use the lens crosshairs to visually line up the horizon or wirelessly connect to the MOHOC® App and preview the position.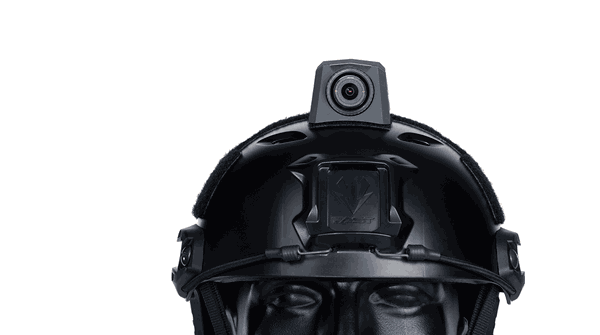 CURVELOCK™ PROFILE
MOHOC® Cameras have a specially designed base to match the curvature of any helmet, This provides unprecedented low-profile, secure attachment which easily deflects chords and rope without getting caught or hung up.
Securely attaches to all military, law enforcement, motorcycle, or recreational helmets in all shapes, sizes, and virtually any location.
DUAL BATTERY
MOHOC® Cameras come equipped with our Li-ion Rechargeable 1100 mAh battery, but can also use two standard CR123A batteries. Up to 2 hr 45 min of record time with the MOHOC rechargeable and 5+ hours of uninterrupted video under CR123A power.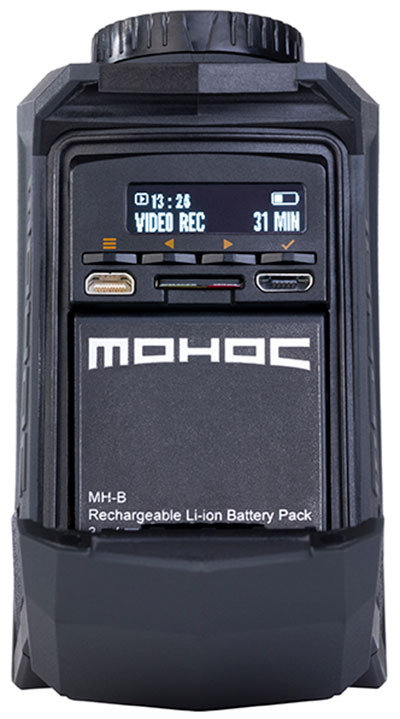 RELIABLE & DEPENDABLE PERFORMANCE – EVEN IN THE HARSHEST CONDITIONS
All MOHOC® Cameras are military-grade tough and IP68 rated. Waterproof to 10 meters, dustproof, and with superior shock and drop protection up to 2m – compared to consumer sports action cameras MOHOC® Cameras are the leaders in durability for helmet cameras.
TECHNICAL  SPECIFICATIONS
US Pat no. 10,802,379
Settings: 1080p/60FPS, 1080p/30FPS, 720p/120FPS, 720p/60FPS, 720p/30FPS, and time lapse (60 sec, 30 sec, 5 sec, or 3 sec)
Dual Capture: Ability to take still photos while simultaneously recording video (photo capture available while in video settings 1080p/30FPS, 720p/60FPS or 720p/30FPS).
Video Format: MP4. H.264 codec
Video Image Ratio: 16:9
Field of View: 121 degrees
Audio: Stereo
White Balance: Auto-adjust
ISO: Auto (100-3200)
Camera: 12MP
Sensor: CMOS
Image Ratio: 4:3
File Format: .JPG
Field of View: 140 degrees
White Balance: Auto-adjust
ISO: Auto (100-3200)
Waterproof to 33 feet (no additional case required)
Drop resistance to 2m
Dust Protection: IP68
Operating Temperature Range: 14⁰ F to 140⁰ F/-10⁰ C to 60⁰ C
Charging: From empty to full in under 1 hour 30 minutes. For best results plug into wall charger.
Battery Life*: Chart of the estimated life of a fully charged battery during continuous recording in hours and minutes:
Video Setting
Rechargeable WiFi OFF
(Est. Time)
CR123A** WiFi OFF
(Est. Time)
Rechargeable WiFi ON & App
(Est. Time)
CR123A**
WiFi ON & App
(Est. Time)
1080p 60FPS
2:05
3:15
1:40
2:30
1080p 30FPS
2:15
3:25
1:45
2:55
720p 120FPS
2:00
3:10
1:30
2:40
720p 60FPS
2:35
4:10
2:00
3:00
720p 30FPS
2:45
5:15
2:15
3:30
*Exact time will vary depending on environmental temperature and camera settings. Over time the battery capacity will decrease.
**We only recommend the highest quality CR123A batteries from Panasonic, Duracell, or Surefire. Battery life varies by battery brand, age, and storage.
Weight: 7.2oz (202 grams) with Li-Ion rechargeable battery
Dimensions: 52mm x 42mm x 88mm (WxHxD)
Microphones: 2 External microphones for stereo audio
Audio: 32kHz – 48kHz depending on video setting
USB: micro 2.0 to recharge battery and download video to computer
Memory: micro SD (micro SD card sold separately)
HDMI: Yes, micro HDMI
Wireless: Yes, 2.4GHz 802.11b/g/n
Orientation Sensor: Yes built in Gyro Sensor.
Orientation: Adjust video recording orientation. Normal, Upside Down or Auto Adjust. Auto adjust will automatically detect which direction is up using the internal Gyro Sensor when you start a recording or take a photo and record correctly in that orientation.
Loop Record: Choose the length of your loop recording. This is it length of video saved from the point you stop the recording backwards. Never run out of space on your microSD card. Allows you to continuously record video and overwrite older footage. Then when something happens you want to keep just stop the recording and your selected period of time is saved.
Power Save: Increases battery life by dimming the display screen and putting the camera in sleep mode after extended period of inactivity.
Date/Time Stamp: Record the date and time of video and images directly onto footage for additional metadata.